---
Annual General Meeting




Scotland Island & Offshore Children's Services



Dear Parents/Carers,

We would like to invite you to meet our new director Liz Power and hear the exciting plans she has for our Centre.



Wednesday May 11th




8.00pm to 9.00pm




Scotland Island Kindy





AGENDA:





1/ Acceptance of Minutes from 2010 Annual General Meeting



2/ Election of the management committee

President
Vice President
Treasurer
Secretary
3/ Treasurer's report
The budget for 2010
Staying open until Christmas.
4/ President report
5/ Director report
Learn about the exciting new programs being offered
Get information on the Early Years Learning Framework (EYLF).
6/ Staff report
How we are improving the health and safety for children at our centre.
7/ Questions and Answers



We look forward to seeing you all.
Best regards
Siocs committee



---
Pittwater Artists Trail
Open Studio Weekend - 14th & 15th May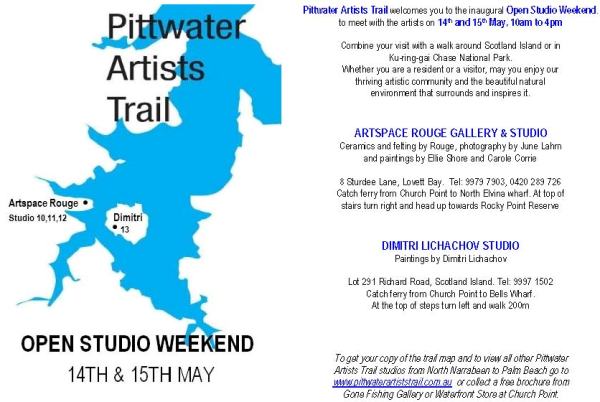 click image to open full sized PDF poster..
---
Census Recruitment


Sign up Deadline Extended



Great news! Due to significant local interest and to ensure that we give everyone a chance to apply, the application deadline for Collector recruitment for the 2011 Census of Population & Housing has been extended until 12 May 2011.

We particularly need Collectors with a boat license and a sturdy boat to help ensure that we reach and accurately record all the offshore residents. Collectors are also required for mainland areas such as Bayview and Terrey Hills.

If you want to contribute to your local community and earn some extra cash, please apply online at www.abs.gov.au/census

Depending on the size of a Collector workload the total salary is expected to be between $1300 and $2800. Additional allowances will be paid where applicable.

If you have any more questions, please visit
http://www.abs.gov.au/websitedbs/D3310114.nsf/home/2011+Census:+Collector+Q&A
or call the offshore Area Supervisor, Jessica Barr on 0404 159 763.



---
Illustrator Wanted



I live over in Lovett Bay and am looking for someone local to illustrate a short children's book that I have written. It requires 10-12 pictures

Contact Victoria on 0434 585 707



---
The Online Local Contact Guide

Click HERE to load
The views expressed in this newsletter are not necessarily the views of the Scotland Island Residents Association (SIRA), or the Western Pittwater Community Association (WPCA)
---