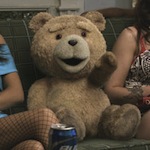 The summer movie season continues to dole out some pretty good movies, like Steven Soderbergh's Magic Mike and Seth MacFarlane's Ted, but nothing great. Meanwhile The Avengers -- this summer's high-water mark -- has crept up to become the 3rd highest-grossing movie of all time (or #27 if you adjust for inflation). It's about $50 million away from taking down Titanic, so if you haven't seen it, by all means, do your bit and contribute! On a side note, the very funny Ted includes a small role for my old college chum Alex Borstein, who also does the voice of "Lois" on MacFarlane's TV show "Family Guy," so please give Alex a big cheer. As for video, I'd most highly recommend 21 Jump Street for being much, much smarter and funnier than it looks. Please also see below for my feature stories on director Alex Kurtzman and actor Chris Pine (in the San Francisco Examiner) and my list of "Strippers and Porn Stars in the Movies" (on Fandango.com).
NEW MOVIES:
Magic Mike ***
People Like Us **1/2
Ted ***
To Rome with Love ***

NEW ON DVD & BLU-RAY:
The Artist **1/2
Bullhead (Drafthouse) ***
Mirror Mirror **1/2
Numero Deux (Olive Films) ***1/2
Spaghetti Western Double Feature: The Grand Duel & Keoma (Mill Creek) ***1/2
The Strange Love of Martha Ivers ***
Tales That Witness Madness **
21 Jump Street ***
Wrath of the Titans *1/2

San Francisco Examiner Links:
People Like Us Feature: Alex Kurtzman & Chris Pine
Pixar/Brave Feature
Lynn Shelton Interview
Prometheus (Review)
Moonrise Kingdom (Review)
Philip Kaufman Interview
Men in Black 3 (Review)
Richard Linklater Interview

Common Sense Media Links:
Ted (Review)
Planet of the Apes (1968) (Review)
Abraham Lincoln: Vampire Hunter (Review)
Seeking a Friend for the End of the World (Review)
Superman vs. the Elite (Review)
Your Sister's Sister (Review)
Safety Not Guaranteed (Review)
Prometheus (Review)

Las Vegas Weekly Links:
Ted (Review)
Men in Black 3 (Review)

Greencine Links:
Too Late Blues - DVD Review
Plot of Fear - DVD Review
Being Elmo - DVD Review
A Trip to the Moon - DVD Review
Conversation Piece - DVD Review

Movies.com/Fandango:
Strippers and Porn Stars in the Movies
The Best and Worst Casting in Comic Book Movies

The Tech Hive: Now Streaming Column
Now Streaming: Musical Accompaniment
Now Streaming: Off the Beaten Path
Now Streaming: Seriously Funny
Now Streaming: A touch of the grotesque
MOVIE QUOTE OF THE WEEK:
"We're reviving a canceled undercover project from the '80s and revamping it for modern times. The people behind this lack creativity and they've run out of ideas, so what they do now is just recycle s--- from the past and hope that nobody will notice." - Nick Offerman as "Deputy Chief Hardy," 21 Jump Street
ALEX QUOTE OF THE WEEK:
"Think about it... a hamburger and juice? That wouldn't be nice."
[Note: Regarding DVD reviews, if I have placed the name of the distributor in parentheses after the link, that means I received a review copy of said DVD.]
If you no longer wish to receive this newsletter, please respond with 'unsubscribe' in the subject line.
Thanks and have a great weekend!
Jeffrey M. Anderson
Cinema Consultant
moviejeff@aol.com