Bouwbeurs 2017 a big sucess

Wie, wat, waar?

Every month we give you an update on the projects that have been completed by our applicators with Liquid Rubber®. Some are large (in terms of volume), others are smaller, but this way you get an impression of the many possibilities with Liquid Rubber. If you have any questions about these projects, please contact us.
Passive building is a very important construction topic these days. To seal the window frame connection to the facade is an essential part of passive building. Liquid Rubber was chosen again because of it's high quality and quick way of sealing.
Liquid Rubber HBS200 was applied on the connection window frame to the facade. Liquid Rubber adheres to almost every surface and cures into a seamless highly flexible membrane. Because the products are liquid applied, it can easily seal the critical points like the frame ancors. The seamless cured product doesn't have any weak spots that makes it a very durable sealant.
Liquid Rubber HBS200 also adheres on light wet surfaces. That is a huge added value this time a year because a construction is almost always wet. So Liquid Rubber was able to work throught the cold and wet winter months.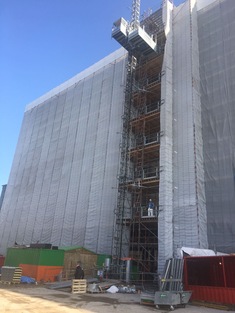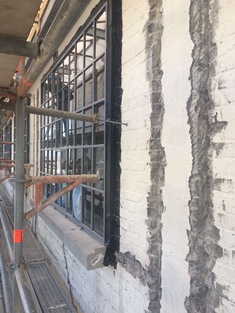 Photos: Liquid Rubber Europe (LRE Coatings BV)
------------------------------------------------------------------------------------------------------------------------------------------------
Project:
At this project the architect chose for a special terrace construction. Inside the curved wall it will be a seating area. The other side will be fully filled with a green garden system. This comes with a lot of water and that is exactly why Liquid Rubber was used on this project.
The upstands were pre-treated with Liquid Rubber HBS200 combined with geotextile. After that, Liquid Rubber BelowGrade was sprayed on the entire surface. The product was applied in a 2mm thick layer which makes it fully waterproof. Because Liquid Rubber is liquid applied, it can easily cover the difficult round shapes in this project. In a next stage the soil and top layer will be applied on top of Liquid Rubber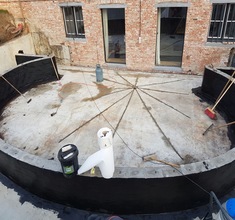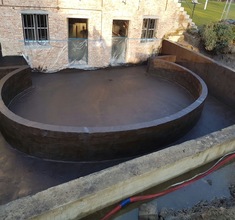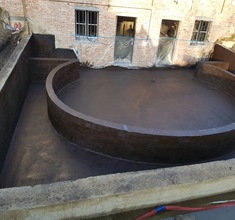 Photos: Liquid Rubber Europe (LRE Coatings BV)
------------------------------------------------------------------------------------------------------------------------------------------------
Project:
A lot of old roofs have leaking problems. It doesn't matter if this is a bitumen roof, an EPDM roof or a PVC roof, Liquid Rubber is able to renovate them all with an easy and durable renovation method.
This roof leaked on a lot of details and joints. Liquid Rubber HBS200 combined with geotextile was applied on the outlets and upstands. Afterwards, the entire roof was covered with a new layer of Liquid Rubber SprayGrade in a thickness of 2mm. Liquid Rubber SprayGrade cures into a seamless and highly flexible membrane with a 100% UV resistance.
This renovation method ensures a durable waterproofing that will last for many years. With this overlaying system you don't need to worry about removing the old roofing product and that will save a lot of time and money.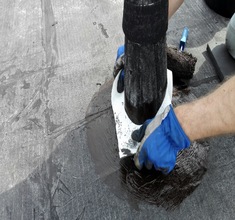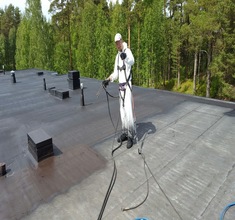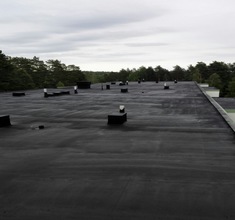 Photos: Liquid Rubber Europe (LRE Coatings BV)
It was that time of the season again.. The Bouwbeurs 2017. This construction trade show is every two years in Utrecht (The Netherlands). Liquid Rubber is present on every edition and we were looking forward to this 2017 edition for long time. The concept had changed a little bit and that turned out to be a huge sucess. The number of visitors was again very positive.
Liquid Rubber had a nice wide open booth that attracted a lot of visitors. Our booth was packed with visitors during all five exhibition days. We would like to thank everyone that visited our stand for the interest, positivity and fun.
For a good impression of the trade show please click on the video below.
We are looking forward to the next edition in 2019!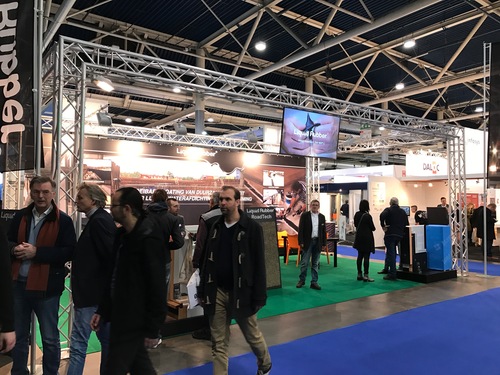 On our social media account we post informative, interesting and entertaining posts. On YouTube we post videos that are informative and demonstrate the large number of possibilities of our product range. Besides following our developments you can also share your opinion about Liquid Rubber with the rest of the world.
 
Click the following buttons to follow Liquid Rubber Europe.
Liquid Rubber Europe, Groot Mijdrechtstraat 15, 3641 RV  Mijdrecht, The Netherlands