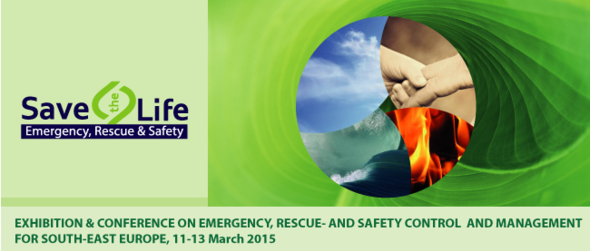 You may be wondering, is Save the Life Conference for me?
The answer is YES if you are interested to get updates on the following concerns:    
· Connection between

disasters, global warming and safe cities;
· 

Hospitals' C/R + B Preparedness; 
·

New biohazards protection technologies;
· How to

training people in the disaster management?
·

Improving evacuation in emergency situations; 
· The Role of Insurance in Climate Change Adaptation, etc.
Emergency and disaster coordination centers; Municipalities; Police and fire departments; Civil defence organizations; Educational institutions; First aid organizations; Architects and engineers; Building companies; Management of large enterprises and institutions, etc.
Who has joined the speaker line-up?
Speakers from the International Association of Risk and Crisis Communication (Switzerland),

Chamber of Architects in Bulgaria,

University of Rome (Italy), EverGlow GmbH (Germany),

University of Tsukuba (Japan), Trilateral Research (UK), Bulgarian Academy of Sciences, Bulgarian Ministry of Environment & Water, Association of the Bulgarian Insurers, etc.
 

  

 

Book your hotel 

by February 26 to ensure that you are receiving the discounted  rate.

     
 

International Fire Protection (IFP) is the only international journal dedicated to fire safety, prevention and protection covering every aspect of the passive and active fire protection market. The editorial features are written by industry experts and comprise a unique blend focusing on the latest technology and equipment as well as highlighting sector specific issues from around the world. Regular product and company profiles, events updates and news make IFP the first choice read for fire safety professionals. IFP is freely available to approved subscribers - please register via  

www.ifpmag.com

and via the IFP App.
 

 

 

Private Ops Magazine is the first digital magazine in Romania, dedicated to private security sector development, counterterrorism, training and education opportunities in the security field. It covers a wide range of topics and subject from all areas of the world. The magazine is free for reading and free to download. Articles and news from the security industry are published every day.

 privateopsmagazine.com
 

CBRNE-Terrorism Newsletter is a monthly, free of charge e-publication dedicated to CBRNE-CT First Responders, distributed to more than 80 countries worldwide.


 

www.cbrne-terrorism-newsletter.com

Organizer: 
+
359 32/512 900, office@viaexpo.com, www.viaexpo.com
Find us on social networks

: