[Note: If you are receiving this without permission, scroll to bottom to unsubscribe.]



May 31, Tue 6pm to 9pm - Boatwerks, Holland

A great place to meet friends for dinner and drinks.
They got it all going on at Boatwerks.
Premium quality dining and drinks in a superlative setting.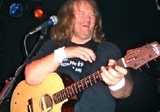 Rick Doogie solo Debut Tuesday - the day after Memorial Day.


Eclectic Acoustic Adventures on the Deck, 6pm to 9pm

---
All Summer Long
Sundays Live Music
at AJ's Grill in Dorr




Rick Doogie & Tom Northrup alternate Sundays


Sundays - AJ's in Dorr, 5pm to 8pm
After 6 years of doing solo Sunday dinner music at Hilliards Corners,
Guitar man Rick Doogie & piano man Tom Northrup have moved to Dorr.
---
And now some astounding Tricks Trivia from the record books!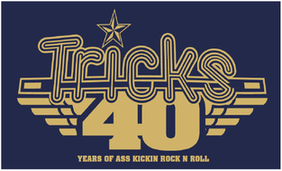 You know 2016 is Tricks' 40th Anniversary!

You would think that after 40 years, a little weekend bar band would settle into a rut
of the same ol', same ol'. That's not how we roll. We gotta keep working hard.
Working hard to build our repertoire of tunes. Working hard to keep our playing tight.
Working hard to find different venues and party places to play.
---
Study this list for a minute ...
All 62 venues from the entire Tricks 40 year history.

Where were you during these years? This is where Tricks was.
** The Note, Gun Lake - 1976
* Whiskey Creek, Alpine Ave, GR - 1976
** Gomery's, Muskegon - 1976
** The Barn, Ionia - 1976
+ Shoe Lounge (aka Rock Saloon), Muskegon - 1977
+ Rusty Nail, S Division, GR - 1977
* Fidelman's Resort, South Haven - 1977
* Slipknot, Ionia - 1977
+ Danny J's, S Division, GR - 1977
* Riverview Bar, Ionia - 1977
+ The Body Shop, White Pigeon - 1977
** Caledonia Family Tavern - 1977
** Jolly J Bar, Wayland - 1977
* Red Cap Lounge, Kazoo - 1977
** Venture Inn, GR - 1977
* Russo's, GR - 1977
+ Rogue Lounge, GR - 1977
+ Jolly Bar, Wayland - 1981 - 1982
+ Pine Keg, Gobles - 1982
~ Royal Knight, Hilliards - 1982 - 1986
* Left Bank, Saugatuck - 1982
* The Avalon, Gun Lake - 1982
~ Family Tavern, Caledonia - 1982 - 1989
* Bullwinkle's, Allendale - 1984
+ Party Station, South Haven - 1985 - 1986
~ Stan's Tavern, Dorr - 1989 - 2005
* FM Station
, Allegan - 1990

~ Lena Lou, Ada - 1991 - 1994

**
Swamp Fox, Middleville - 1991 - 1992
** The Loop, downtown GR - 1991
** 4 Lanes, Hopkins - 1992
+ Cleo's, Alpine Ave, GR - 1992 - 1993
•• Stables, Allegan - 1993
** Cheek to Cheek, Kazoo - 1993
+ Paunchy Pete's, GR - 1994
* Longbranch, Allegan - 1994
* Avalon, Gun Lake - 1994
** Coral Gables, Saugatuck - 1994
+ Olde Towne Tavern, Hastings - 1997
~ Daisy Mae's, Gun Lake - 1998 - 2004
* Mirage, Saranac - 1998
** 54th Street Lounge, Wyoming - 1999 - 2000
* Jolly Bar, Wayland - 1999
~ American Legion, Dorr - 2001 - 2013
* Country Lanes, Dorr - 2001
~ Wayland Hotel, Wayland - 2002 - present
~ Ye Olde Woodshed, Douglas - 2002 - 2005
~ Sue's Sidetrack, Fennville - 2005 - 2011
~ Country Lanes, Dorr - 2005 - 2007
~ Log Cabin, Wyoming - 2008 - 2010
~ Hilliards Corner Lounge - 2009 - 2015
~ Roadhouse Bar, Paw Paw - 2010 - 2013
~ M89 Sportsbar, Otsego - 2013 - present
+ Gun Lake Casino - 2011 - 2012
+ Moose Lodge, Dorr - 2012 - 2013
+ River City, GR - 2013 - 2014
~ AJ's Grill, Dorr - 2012 - present
* The Dock at Bayview, Richland - 2013
~ Woody's, Wyoming - 2013 - present
* Eagles, Grand Haven - 2015
+ Jake's, Dorr - 2014 - 2015
* Caledonia Family Tavern - 2016

"+" marks 16 bars where Tricks played several times, but only for a year or two.
"~" marks 16 bars where Tricks played for more than two years
Single asterisk marks 17 bars where we only played one weekend
Double asterisk marks 13 bars where we only played two weekends
---
Check the Tricks website for recent photos and upcoming schedule.
Thanks for your musical
friendship
,
Rick, Krystal, Steve, Ozzy, Dave