---
---
SIRA

NEWS
The SIRA AGM elected an 11-person strong committee.
Please join us in congratulating the new committee and wishing all good luck with representing the community over the coming year !

Function

President
Vice President
Vice President
Treasurer
Secretary
Ordinary Members  


Member

Hubert van Mierlo
Sharon Kinnison
Colin Haskell
Boyd Attewell
Anne Dennis
Jane Rich
Shane O'Neill
Fabienne d'Hautefeuille
Nadja Fisher
Neelica Raffe
Nicole Gooch


Thank you to outgoing committee members, Alec Beckett and Emmie Collins for their service over the past 12 months.


---
Community Vehicle Service Notice
Out of Service
Monday 27th November 2017 to Friday 1st December 2017
---
Message from Marg Malloy
To my friends,

As you know we are leaving Little Lovett Bay after 46 wonderful years.
Come and have a goodbye drink and take something to remember us by.


Sunday 26th November from 2pm until 5pm. BYO.

We look forward to seeing you.

The Molloy Family

---
NOTICE
Church Point Carpark - seeking expressions of interest
We are writing to our off-shore community, and to people who have a registered an interest in the Church Point Upgrade project, to determine the number of people interested in leasing a space in the new carpark and to gather a carpark-specific contact list.

The carpark will have at least 60 spaces available for lease on its top level.  The cost for a parking space is $4,939 pa (+ yearly CPI increase), as specified in Council's 2017/2018 Delivery Fees and Charges.
 
We invite you to complete this short registration form, enabling us to keep you informed of important information relating to the leasing process.    



* Please note, this register does not guarantee you a reserved leased space, it tells us the level of interest in the available spots and will ensure you are kept in the loop when further information becomes available.



Full details on the Church Point Upgrade project are available via the project page.


Michelle Carter
Active Travel Officer



---
SIRFB Briefings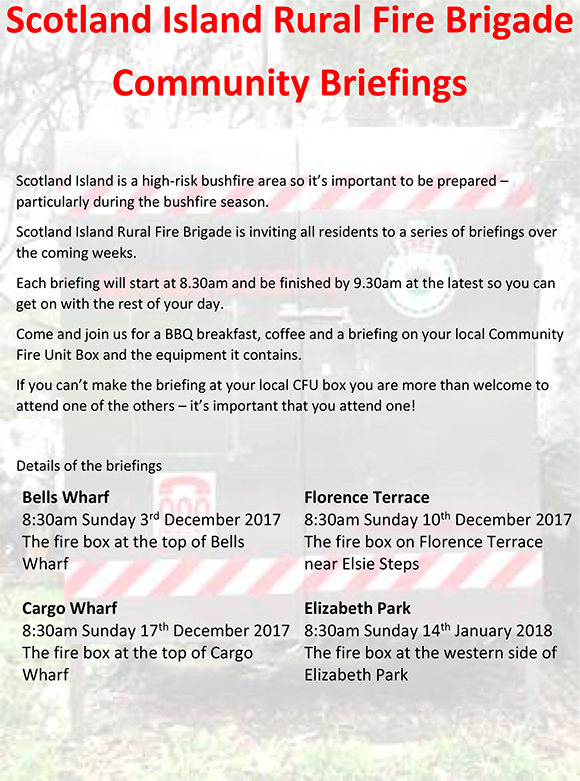 ---
Open Mic Night
Saturday 25 November from 7.30pm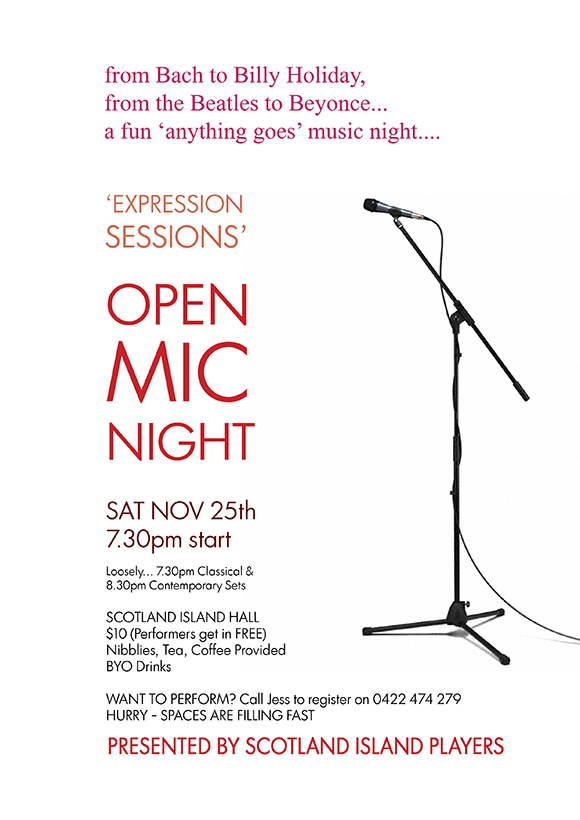 ---
For Sale

Yamaha 30DMHS outboard motor
2 stroke
30 hp
electric start
short shaft
tiller steer
professionally serviced (with logbook) when used but has been mothballed for a few years
2006
good condition
$1,500 ono
---
Boat for Sale
---
Drill Press

In good working order.
Exchange for carton of Coopers ale.

Call Mick Cardiff on 0439 975 469 - Lovett Bay




---
Free Children's wardrobe 

Painted green.
Has shelves and hanging space.
Pick up from wharf in Lovett Bay. 
Call Gayle on 0401 099 503
---
---
---
A complete set of past electronic newsletters since May 2000 can be found and read at https://ymlp.com/archive_gesgjgm.php  or by clicking here or by visiting the Mona Vale Library.

The Island website is at www.scotlandisland.org.au



---
To Contribute
If you would like to contribute to this newsletter it's easy!. Send an e-mail to the editor (editor@scotlandisland.org.au) or by clicking here. Type your contribution (100 words or so would be fine) and assuming it is of general interest to the community, does not include matter of a political nature and is not offensive, it will appear next month.
Subscription Information
To get on and off this newsletter,

click here

or got to:

http://www.scotlandisland.org.au/signup .


To change your address, click the 'modify' link at the bottom of this newsletter or send an email to the

editor@scotlandisland.org.au


---
Follow the PON
---
The Online Local Contacts Guide
Click HERE to load
---
---
The views expressed in this newsletter are not necessarily the views of the Scotland Island Residents Association (SIRA), or the Western Pittwater Community Association (WPCA)
---